arts
Your Chance To Sing For Charity
The Skipton Choir is hoping to boost the £3,000 raised for charity with its first virtual choir video with a specially written encore – and the help of other singers around Skipton.
The 80-strong choir, which released its version of
When You Believe
on YouTube in early May, now plans to release a second song – this time in aid of North Yorkshire based Dementia Forward which supports local people living with dementia and those who care for them.
The choir's first recording raised £3,140 in aid of the Sue Ryder Manorlands hospice at Oxenhope. Now, musical director David Weale and his sister Rebecca Luetchford have written a special ballad,
'We Will Sing Again'
for the next recording, to be released on YouTube in August.
This time, as well as choir members, singing enthusiasts from around the Skipton area are being encouraged to join in and submit their own recordings. As with the original virtual choir video, all voices will be recorded individually and submitted to David for editing.
Anyone who would like to take part will need to register their interest by the end of June. A video explaining the project in more detail can be found on the choir website
www.theskiptonchoir.co.uk
To then register, email
skiptonvirtualchoir@gmail.com
for further information. Final recordings will need to be submitted by the third week in July to enable editing to be completed in time for the late August launch
Said David: "We're absolutely delighted that the choir's first recording raised such a good sum for Manorlands which, as with so many charities, faces a huge funding crisis as a result of the coronavirus pandemic.
"Spurred on by the success of our first virtual choir performance, we thought we would release a second video – this time in aid of another local charity which does an incredibly important job in our area and with whom choir members have personal contacts.
"Music is a lifeline for many people, particularly at the moment. And for those living with dementia, their music memories are often unaffected by the disease in the same way as other memories – singing can make a huge difference to their wellbeing. Given the befits of singing for everyone, we also thought it would be good to involve the wider community with a song especially written for our times."
Said choir chairman Carol Squire: "We have had people in the choir in the past who have suffered from the early stages of dementia, so we know how important it is to have support for them in the community and Dementia Forward offers a real lifeline for many people living in our area.
"We hope as many people as possible will join in with our next virtual performance. Full instructions explaining what people need to do will be provided, along with recordings of the soprano, alto, tenor, and bass parts of the song which people can download and learn. There will also be a video showing how people can record and submit their contribution. It's both fun and challenging to do – and in aid of a hugely worthwhile local cause."
The Skipton Choir recording of When You Believe can be seen here: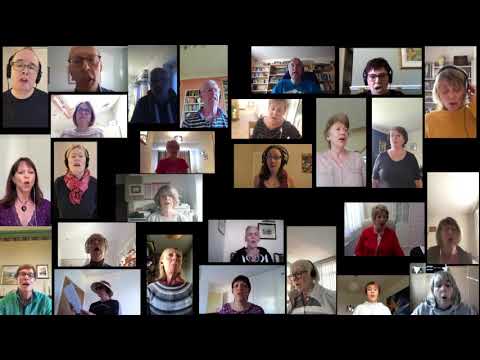 The choir's donation page for Manorlands is available here https://bit.ly/2WdjJiP}